Whether you're a self-driven professional or running a large-scale business, networking plays a critical role in your success. At GOTAP, we understand this, and it's why we've developed GOTAP Version 2. This upgraded platform comes in two distinct versions to cater to your unique needs.
Why We Launched GOTAP Version 2
Here in GOTAP, we firmly believe in constant innovation to keep pace with the rapidly evolving business landscape. It's this belief that led us to launch GOTAP Version 2. Here's a deeper look at why we took this transformative step.
Meeting the Diverse Needs of Users
GOTAP Version 1 was a successful first step into revolutionizing the way we network. However, as our user base grew, we realized that a 'one-size-fits-all' solution may not fully meet the unique needs of different professionals and businesses. GOTAP Version 2 is designed to offer more tailored solutions to individual professionals and large organizations, ensuring a more targeted and effective networking experience.
Enhancing User Control Over Data
As technology advances, the need for robust data control becomes even more critical. With GOTAP Version 2, we aimed to give our users more control over their data. Features like a powerful dashboard and the ability to update and delete information in real-time represent our commitment to providing a platform that respects and empowers user data sovereignty.
Boosting User Insight
Understanding networking performance is crucial to crafting an effective business communication strategy. With GOTAP Version 2, we introduced advanced data analytics and insights, allowing our users to track how their digital business cards perform and identify areas for improvement.
Increasing Team Management Capabilities
For businesses, managing a team's networking can be a challenging task. GOTAP Version 2 introduces new tools for businesses to manage and edit team business cards, track and analyze their use, and manage user links and documents. These features ensure businesses can streamline their networking strategies effectively.
Offering Personalization
With GOTAP Version 2, we wanted to give our users the opportunity to express their unique professional identities more effectively. The introduction of multiple profiles and customizable themes is our way of ensuring that our users can make a strong impression that resonates with their brand and personality.
Read Also : Role of Smart Business Card in Company Brand Persona
GOTAP Professional: Transforming the Networking Game for Professionals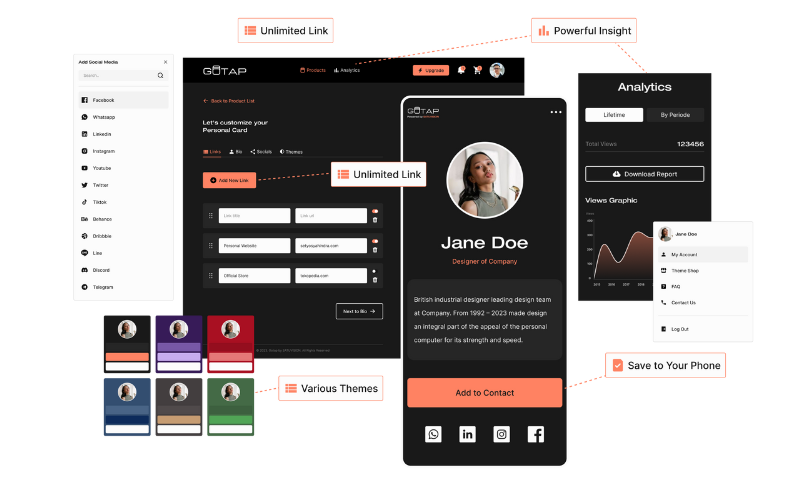 Our Professional version is the perfect fit for freelancers, self-owned businesses, public relations professionals, influencers, and consultants. This version is designed to give you a competitive edge, offering a host of features to enhance your networking.
Key Features
Multiple Profiles: Craft different professional identities for different audiences, each with its unique contact details, bio, and more.
Data Analytics: Understand your networking better with detailed data analytics. Monitor which information is getting more attention and tailor your profiles accordingly.
Advanced Insights: Take your data analysis to the next level, gaining deeper insights into your networking trends.
Enrich Contact: Add more depth to your contact details with Enrich Contact. Include additional details like social media handles, websites, or even a personal blog.
GOTAP Business: Empowering Enterprises to Network More Effectively
Our Business version is specifically curated for corporates, sales representatives, the hospitality industry, and large organizations. In addition to all the features of GOTAP Professional, the Business version provides tools for effective team management.
Key Features
Manage & Edit Team Business Cards: Easily update and manage your team's digital business cards. Make real-time changes to keep up with role shifts, new hires, or contact detail updates.
Track & Analyze Team Business Cards: Keep a close eye on how your team's business cards are performing. Get in-depth insights into which team member's card is getting more interactions, helping you identify and boost networking champions within your organization.
Manage User Links & Documents: Ensure that your team shares the right content by managing user links and documents centrally. Control the flow of information, and keep your brand's messaging consistent across all team members.
The New Website Interface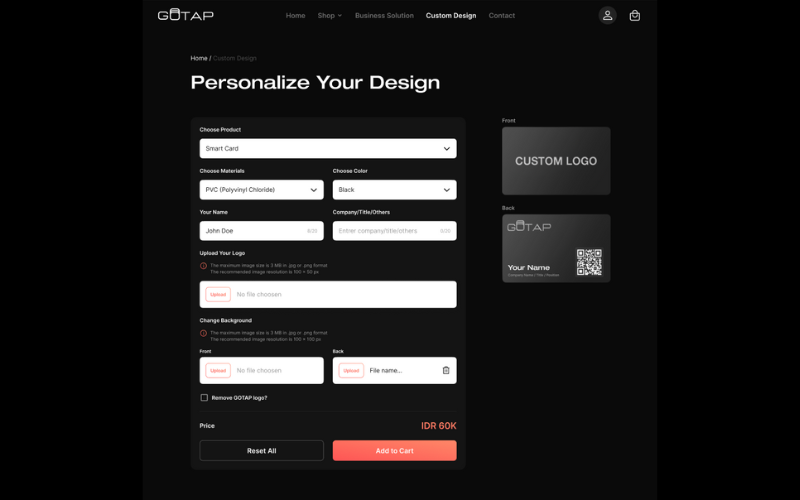 Many Theme Options Reflect your unique brand personality with customizable themes. With this new interface feature, choose the one that best suits your professional image.
Here's a step-by-step guide on how to personalize your GOTAP digital business card using the theme options:
Step 1: Choose Your Card Material
Log into your GOTAP account and navigate to the 'Themes' section. Select 'Materials' to view the range of available options. Click on the material that best suits your style to set it as your card background.
Step 2: Place Your Logo
Under the 'Logo Placement' option, choose where you want your logo to appear on your card. You can select a corner, center, or alongside your contact information – the choice is completely yours.
Step 3: Fill in Your Details
Enter your name and professional details under 'Your Name' and 'Company/Position/Other' sections. Remember to review these for accuracy, as this is the primary information your contacts will see.
Step 4: Choose Your Font
Under 'Select Font', browse through the range of font options. Once you've found one that matches your professional persona, click on it to set it as the default font for your card.
Step 5: Show or Hide NFC Icon
Decide whether you want to display the NFC icon on your card. You can toggle this on or off under the 'Show NFC Icon?' option.
Step 6: Upload Your Logo
Under the 'Upload Your Logo' section, click 'Choose File' to select a logo image from your device. Remember, the maximum size is 3 MB, and the file should be in .jpg or .png format with a recommended resolution of 100 x 50 px.
Step 7: Remove GOTAP Logo
If you wish to remove the GOTAP logo from your card for an exclusive focus on your brand, you can toggle this option under the 'Remove GOTAP Logo' section.
Step 8: Disable QR Code
Lastly, if you prefer not to display the QR code on your card, you can choose to disable this under the 'Disable QR Code' section.