Are you Looking for NFC Cards, but you are still new on the market and need help deciding which brand is the best for you? Look no further! This blog post will look closely at the current most popular NFC cards brand in Indonesia's market: Tappp Link, GOTAP, and Tap Alien. We will also take a detailed look at what are good NFC card features, performance, and quality in general to help you determine the best fit for your needs.
Whether you're a business owner or professional looking to find a business card to create a hassle-free networking process or a consumer searching for a convenient way to store your social media or portfolio link, this post is for you. So, read on and learn what these brands offer to know which one is the best for you!
Table of Contents
What is NFC Card – Definition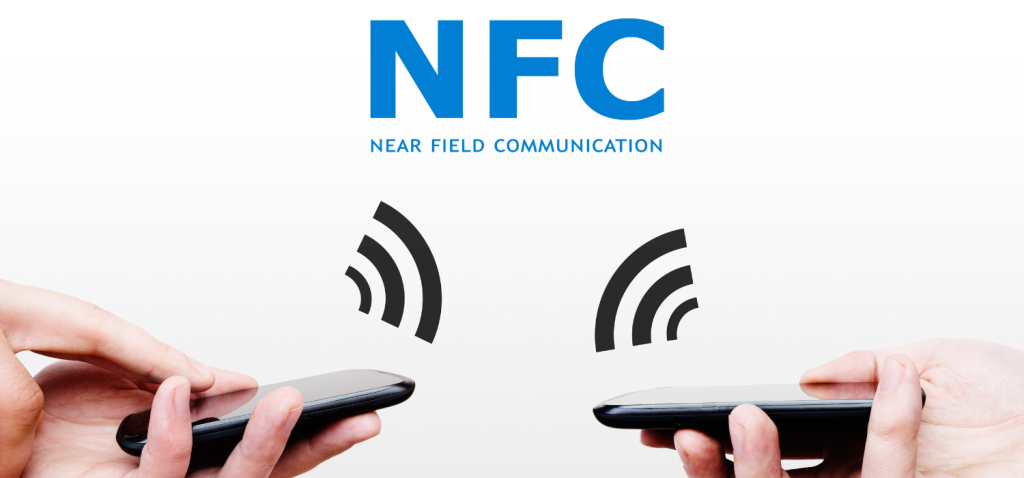 In this era, most people easily have access to a wide range of digital communication devices and the internet, which have transformed how we communicate, share information, and access services. These devices and technology have made it possible for people to communicate with each other in real time, regardless of their location, and have made it easier for businesses to reach and connect with customers.
Within that situation, the use of NFC cards has become increasingly popular as it offers a convenient, fast and secure way to make payments and store information. It has been adopted by many industries, including retail, hospitality and transportation, to streamline their payment and customer service processes or for people, in general, to connect or network with others in the most convenient way.
But what is the definition of an NFC card? NFC card is a type of smart card that uses NFC (Near Field Communication) technology that allows wireless communication between devices within a few centimeters of distance. NFC technology is based on radio waves, similar to Wi-Fi or Bluetooth, with a shorter range. In the context of NFC cards, this technology allows for contactless data transfer and data storage on a single card quickly and securely.
Read More Information About NFC Card
The Qualities of NFC Card that Worth to Buy
It doesn't matter which brand it is, it's important for you to know what the quality of NFC cards are that Worth It to buy. When buying an NFC card, there are a number of things to consider so you can buy a card that is of good quality and worth buying. From compatibility to the material of the NFC card, for more explanation, see below:
Good compatibility with devices that support NFC technology
Fast and stable data transfer
Sufficient memory capacity
Water and extreme temperature resistance
Ability to securely encode and encrypt data
Good level of durability and can be used for a long time
Attractive design and easy to use.
Tap Alien – Digital Business Card
Tap Alien is a local Indonesian brand that sells sophisticated business cards with a selling point that introduces yourself inelegant way without changing any cards. Built with NFC technology, Tap Alien's business cards are made for individuals who want to communicate effectively and modernly. Quoting directly from the Tap Alien website, Tap Alien's business cards are suitable for corporate officials, business owners, professionals, politicians, doctors, educators, public figures, and influencers.
With a price of IDR 332,000, buyers can request the design they want and load the data they want to display, such as profile photos, telephone numbers, social media accounts, websites, and address folders. With simple use, namely by touching the cell phone device, the owner's data will appear.
Alien Tap – What's On Offer
Apart from providing sophisticated business cards with NFC technology, Tap Alien also offers:
Use without Application
Has a feature for cellphone users without NFC
Resistant to Water
Can change data anytime
Guaranteed
Thick card material
Tappp.link – Smart Business Card
Tappp.link is a business card with NFC technology that can help users connect with anyone simply and efficiently. Based in Subang, West Java, Tappp.Link with the advantages of Less Paper, More Paper is here to provide digital business cards that provide solutions to reduce paper use for environmental sustainability. It has been trusted by various companies and professionals. Tapp.link cards can only be obtained through their official website, WhatsApp and the Tokopedia Marketplace.
With a range of IDR 95,000 to IDR 149,000, buyers can enjoy digital business cards with various designs that have been made by Tappp.link and can request the design they want at the highest price. Tappp.link can display your contact data, social media, media gallery, and documents.
Tappp.link – What's On Offer
Tappp.link besides providing sophisticated business cards with NFC technology also offers:
Personalized business card data anytime
Use without Application
Interactive dashboard for editing data
Has a QR Code for mobile users without NFC
GOTAP – NFC Card for Business
GOTAP is a digital business card that is also equipped with sophisticated NFC technology. Even though it has a business label in it, the GOTAP NFC card feature is still effective for individuals from any profession who aim to use the GOTAP digital card for networking or other activities. In addition to making it easier for users to connect in exchanging information, GOTAP strives to be a pioneer in becoming an environmentally friendly digital business card by maintaining the quality of the NFC cards produced and actively providing the latest information on the importance of the sustainable role of digital cards for the environment.
Innovated for almost 2 years, GOTAP already has 2 types of NFC business cards in the form of metal and bamboo or wood. By prioritizing professionalism but still being authentic, the NFC GOTAP business card has an elegant, unique and minimalist design. You can have a GOTAP NFC business card with a price range from IDR 100,000 to IDR 249,000
GOTAP – What's On Offer
GOTAP besides providing sophisticated business cards with NFC technology also offers:
Can choose the desired card material (Metal or Bamboo/Wood)
Design and Information that can be customized as needed at any time
The default design is elegant and minimalist
Resistant to Water
Premium quality card materials (Metal and Wood)
Guaranteed data security
Why is it important to have the right NFC card for your needs?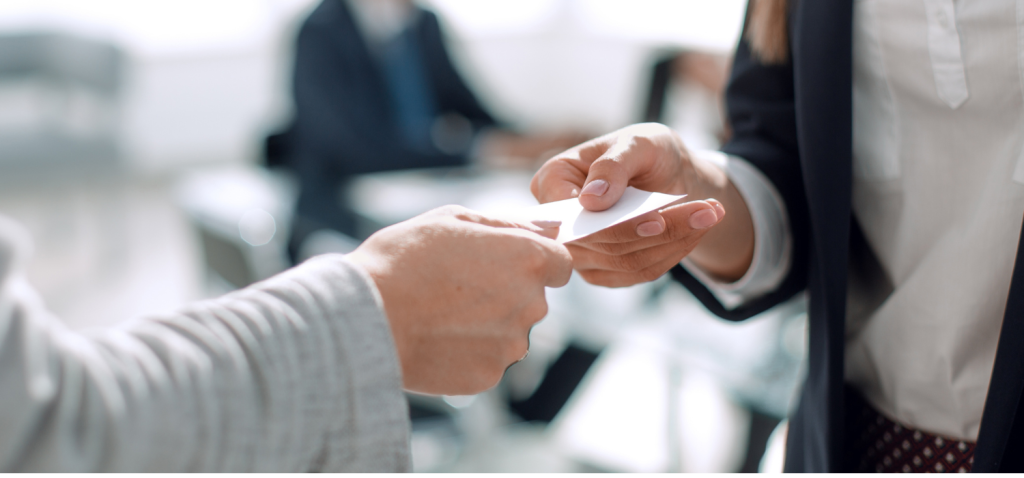 From the description above, you can compare NFC card products that are suitable for your needs. In deciding, it is important to evaluate your needs and consider the qualities you want in the product before buying. Don't forget to compare the prices, features, and built-in values of different products before making a final decision.
It is important to remember that the use of NFC cards is not only increasing efficiency, security, and professionalism. Using NFC business cards also can help reduce the need to print and distribute traditional plastic cards, which can save natural resources and reduce waste. So choose a qualified and durable NFC business card.
Read Also: Digital Smart Card Role In Business Sustainability
How GOTAP Can Help You
GOTAP continues innovating to provide the best products to support your communication and networking activities more efficiently and professionally. Find out more about how GOTAP can help you below:
For Personal Use: GOTAP Smart Tag & Card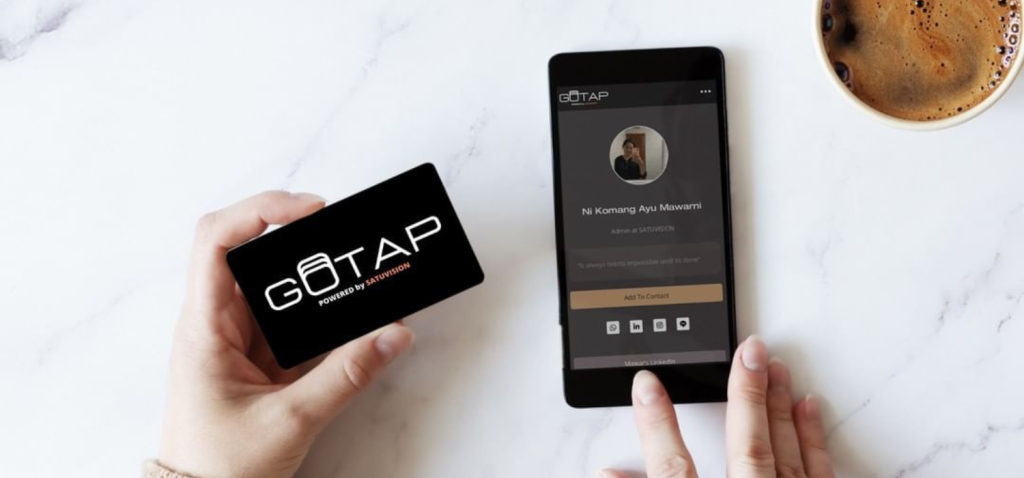 This Smart Tag & Card was designed with economical price in mind, easy to carry, high- quality materials and of course a more beautiful design perfect for personal use. All you have to do is just TAP to your iOS and Android smartphones, your contact information will be displayed immediately and make your networking session easier. For smartphones that do not have the NFC feature, you can use the QR CODE by scanning the QR CODE on the card.
Using the GOTAP NFC Tag & Card, you can easily add your phone number, email address, social media account link, and portfolio link to your digital business card. Personalize your digital business card anytime and anywhere with ease.
For Company: GOTAP NFC Card for Business
The GOTAP NFC card is also here as your business communication partner! GOTAP NFC Business Card with modern NFC technology and professional customizable design is equipped with a simple and easy-to-use portal editor display.
Customize your NFC business profile and business card with your company image and start communicating with others. Create smart connections within the company and build relationships in the easiest way. Without having to use the app, share your contact information in an interactive, professional and seamless way.